The nature and themes of my art have changed, especially since moving to Europe, thereby understanding and experiencing its art history.

However, the dominant theme of my art has remained the symbols, scenes and colours of the South American cultures in which I grew up and then studied. Please take a look at the short "Andean Culture" section to read and understand more about these subjects....

.




.
The things we see are within our soul,
not only within the things themselves.
RENATO SÁNCHEZ RÍOS
"Rather than dismissing our hallucinations as unimportant,
we should appreciate their value."
(Renato Sánchez Ríos)
.
.
.
.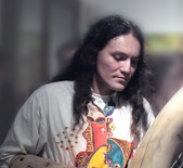 Renato Sánchez Ríos:
1973 Born in Lima/Peru
1990-92 Attended National Art Academy
1992 Certificate of the Institute of National Culture
1992 - 2000 Study trips through Peru, Bolivia, Ecuador, Chile, Brazil, and Mexico, Assimilation of local iconographies
2001 Moved to Europe.
as from 2002 Studies in museums and art exhibitions
2006 - 2008 Art classes with Raul Rutti in Frankfurt, and with Renate Kuby and Steve Whitton, LahnArtists e.V. / Limburg.
as from 2006 Participation in several collective art exhibitions in the Limburg area as well as in Marburg and Frankfurt a. M.